Naomi Gingold (co-host) is a journalist, podcast editor/producer, and ethnographer who has lived and reported from across Asia, covering figures and events both famous and historic, as well as significant but unknown, from 2015's election in Burma/Myanmar to unsung heroes of the 3/11 disaster in Japan. Her reporting can be heard on NPR, The World, and the BBC.
She is also writing a book on the evolution of media, technology, politics, and society in Burma as seen through the history and development of Burmese hip hop. In a previous life, she worked as a Japanese pop culture and business consultant and still considers Japanese high school girl slang an under appreciated high art of expression. She is an alum of Brown University and Berklee College of Music.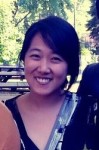 Jacky Ahn Yang (co-host) 
is a lawyer who specializes in assisting developers and business teams navigate the world of open source software. Over the years she has worn a variety of hats, from lawyer to Asia policy consultant, working with The Asia Group, Berkman Center for Internet & Society, and New America Foundation. She is a classic case of a "third culture kid," who spent the majority of her formative years in Asia before coming to the U.S for college.
In her spare time, she likes crawling through online subculture message boards under the excuse of "cultural studies." She's convinced she's a dog person, though she has never owned a dog before.
She received her J.D. from Cardozo School of Law, where she was a Squadron Fellow in Law, Media, and Society, an M.A. from Georgetown University, and a B.Sc. from Columbia University.